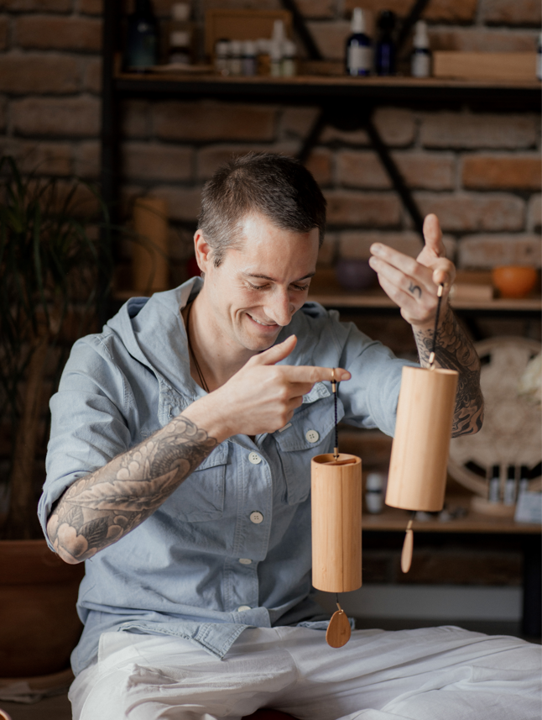 It is in human contact that I find my balance and it is through the latter that I like to transmit and share my passions. In my life, I have known very highs and also very lows. Several years ago, I experienced a period of total disconnection between my body and my mind, until I had an accident. Following this accident, I had a near-death experience. At that moment, the universe certainly gave me one of the greatest gifts ever given to me: I discovered my self-healing abilities…
Since then, I have decided to devote myself to following my inspirations and becoming a therapist.
When we become aware again of why we came to this beautiful Earth, it opens up a field of beauty and incredible possibilities and that is what I wish to transmit for the rest of my life here.
With light and joy,
raph
I have always been fascinated by the infinite field of possibilities in any field and the potential that resides in everything. As far back as I can remember, I've always wondered what I was doing there, embodied on planet earth… unsuited (and unsuitable) to rules, frames, boxing in general. It took me quite a few years to tame my sometimes disconcerting visions, my innate non-conformism, my visceral need for "different", for "special".
After many experiences, sometimes joyful, sometimes painful but always instructive, I now embody the path and the truth of my soul, in all its dimensions. It is in the opening of the heart that I offer the medicine that was lent to me in this incarnation in order to help, to guide the people brought to cross my path.
Although related, we all have our own unique way of expressing ourselves and experiencing life on earth. This singularity deserves to be highlighted.
I am not announcing an easy path because any ascent has its share of tests. What I guarantee, on the other hand, is true and sincere accompaniment because that remains for me the most beautiful thing that can be offered.
With light,
Sasha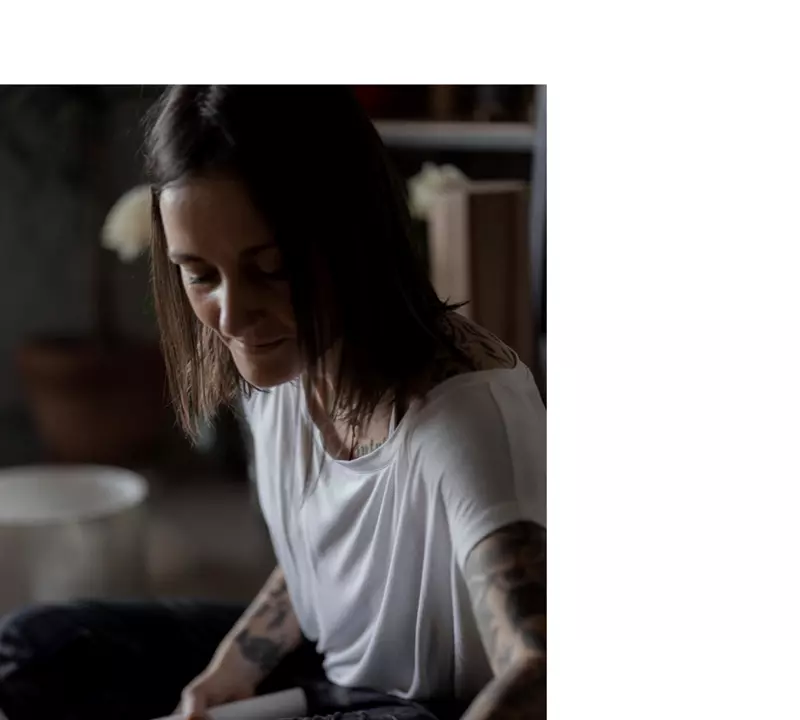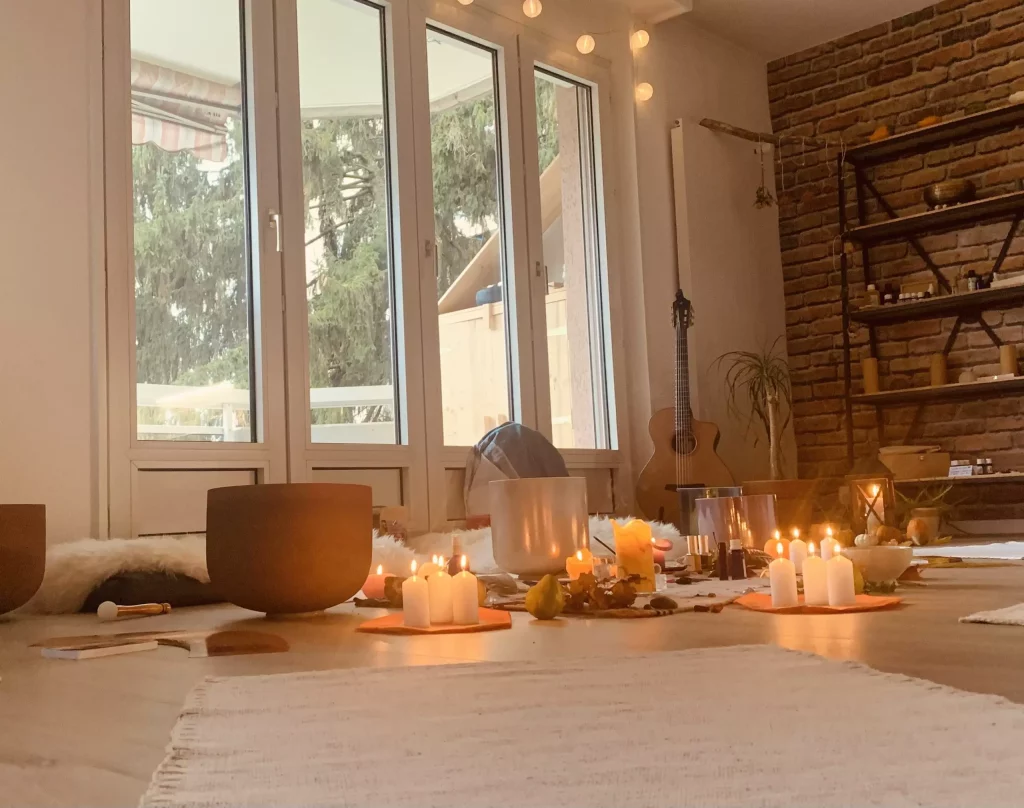 The sacred spaces that we hold have enormous significance in our lives.
Indeed, during these meetings (Cacao Ceremonies, lunar/astrological ceremonies, workshops, meditations …), we co-create – with you who take part – timeless, sacred and benevolent spaces in which everyone can be exactly who he is, in welcoming his emotions of the moment.
These are moments that we offer ourselves, in a spirit of benevolence and love for ourselves and where we allow ourselves to (re-)connect to our own essence.
But the experience in itself of these spaces will always speak of it better than words.
Contact us with any questions, we will be happy to answer them.
See you soon 🙂
BACH FLOWERS & OLIGOTHERAPY
As part of what we do, we are very often assisted by the vibratory power of the Bach Flowers which act with finesse and wisdom on the emotions. True magicians, the 38 flowers of Dr. Bach allow to identify the emotions, to highlight them to develop what one wishes and to maintain harmony in the body & the spirit.
Oligotherapy will be – for its part – more generally integrated, if necessary, in the context of nutritional care because this therapy will support the rebalancing of food by contributing in particular to restoring the deficient functions of the body. The trace elements are catalysts of the biological functions of the organism at the very basis of life and they increase the self-healing capacities of the latter.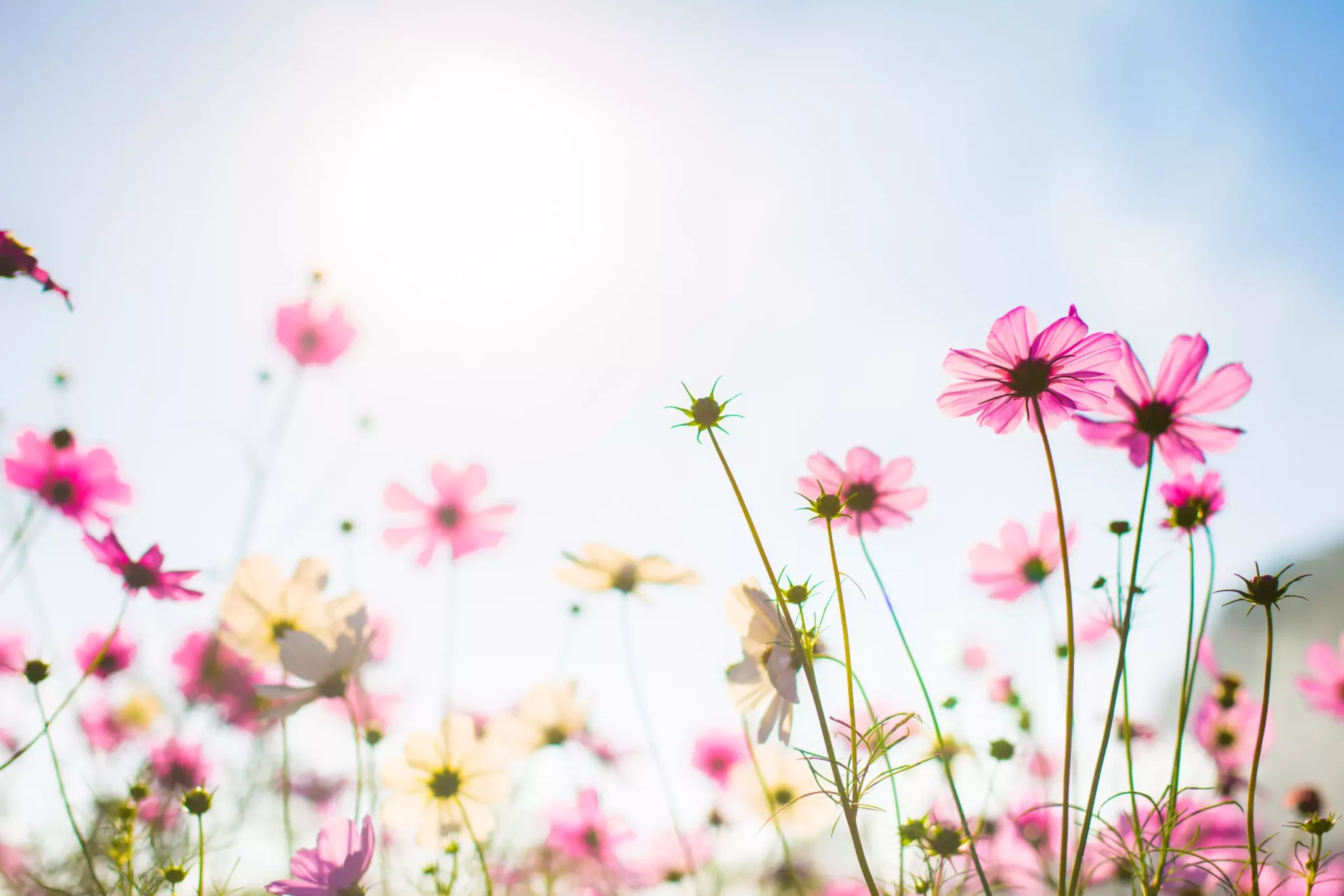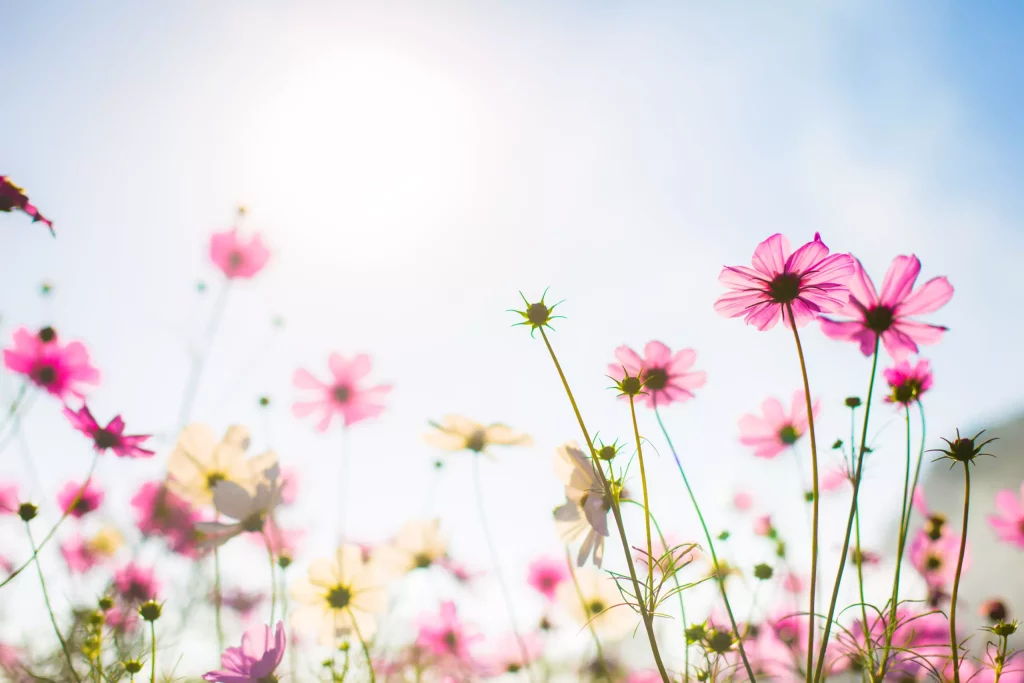 "The Cacao Ceremony experience was a rich experience of meditation and astrology (current celestial movements/energies). A great moment of well-being and confidence in oneself and in others during the celebration of the winter solstice. Chloe & Raphael are wonderful in their professionalism and sincerity»
The Cacao Ceremony experience is a whole ritual, beautifully organized, with an energy of love. After a purification of our Being, we put ourselves in a phase of meditation and intense concentration to connect to ourselves, to our true "me". The songs of the Crystal bowls, the songs of Raphael & Chloé and the drums take us on a wave of happiness, make us vibrate. I lived this experience with intensity and my body guided me to feel better and help me pass the course of the full moon with serenity. Cacao medicine is powerful and allowed me to lighten some weight. The group sharing during this session was sincere, beautiful and done with kindness. I thank with all my heart for this guidance and these beautiful messengers who are Chloé & Raphael.
Thank you a thousand times, Namaste".
This treatment was a unique experience for me. Indeed, the synergy of Chloe & Raphael allowed the release of many of my blockages. Their gentle and enlightened approach gave me the right atmosphere to travel with myself. I thank you wholeheartedly.
My body felt light with a floating sensation. I was serene and at peace. A light was present and accompanied me. Thank you!
Very warm welcome, always with a smile. After the treatment, I feel very peaceful with all my little sores that have disappeared. My body regains its vitality. A must do for your well-being
I had never done an energy treatment in my life and a friend recommended the Sapha treatment by Chloe & Raphael because I felt imprisoned in my body, my situation. So I decided to go there to explore. During the treatment, I felt very safe which allowed me to relax and enjoy the treatment. I was very surprised to see how much the messages delivered reflected my situation and it helped me to put it into words. I felt at peace and ready to move on again. Sincere thanks to you.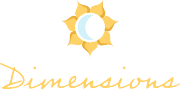 Would you like to receive our newsletter? This way: