Distance channeled energy healing
Receive an energy healing session in the comfort of your home
Distance channeled energy healing - by Sasha
Distance channeled energy healing
I offer you through this session, an alchemy of pure magic. A distance channeled session in connection with my guides and the divine energies that work alongside me in an evolutionary and benevolent way.
For each session, I proceed as follows:
We make contact by phone in order to set the intentions of the session and so that I can provide you information on how it works.
You will lie down in a quiet place, at home, during all the energy work.
This type of energy healing session is perfectly adapted:
When you experience difficulties in your daily life of an emotional or relational nature
When you are looking for answers to existential questions or when you feel an energy imbalance or a lack of energy, sleep or other
Each session is unique and therefore can vary considerably from one individual to another depending on the intention and needs of each.
At the end of the session, you will receive, by text message or email, the information I will have received, as well as possible invitations to undertake certain practices or rituals in order to support the process of evolution and healing.
We are currently collectively in a period of profound transformation at an energetic consciousness level of the body and it is necessary to maintain the harmony between the physical and subtle planes in order to live this transformation in the most beautiful way.
With Light,
Sasha
Distance energy healing session (duration: 1h15-1h30)
Any cancellation must be made at least 24 hours before the date of the appointment (except in cases of force majeure). Once this period has passed, 80% of the price of the session will be invoiced. Thank you for your understanding.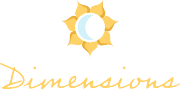 Would you like to receive our newsletter? This way: